Comparison Shopping Engines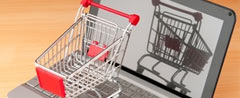 With the proliferation of stores currently available on the internet, there has been a rise in comparison shopping websites, which compare the prices of many different retailers and allow customers to choose where to buy. If your site is not listed on one or more of these sites, you are missing out on business.
These sites are a great opportunity to attract customers, as when they are using one of these sites they are already prepared to make a purchase, and a gentle push in the direction of your site can make all the difference.
Ralecon can help you implement the proper strategies to differentiate your business and product on comparison shopping engines, driving these sought-after customers to your site. As with all of our products, we tailor our marketing strategies to your individual business, and choose sites which are the most relevant for promoting your product or service.At Ralecon, we have access and experience with some of the largest Comparison Shopping platforms including Single Feed, Go Data Feed (GDF), and Channel Advisor.We choose the best sites for you out of more than 20 popular comparison sites, and ensure that your information is complete and up-to-date.
Once we have chosen the sites, we implement a system in which your products can be easily listed on these sites in the places that your target customers are most likely to find them. We also track all of the information gathered from these campaigns to ensure that our strategies are getting the best possible results. At Ralecon, we are focused on the end result, so we make sure to constantly adjust our strategies in order for you to always get the most out of comparison shopping sites. With our help, you can take advantage of these websites, and boost your business considerably.