client
SEO Casestudy

- Chrysalis High Top International School in Bangalore

Chrysalis High is a renowned international school based in Bangalore, India. The school aimed to enhance its online presence, increase organic traffic, and generate more leads through search engine optimization (SEO).
Challenge:
The main challenge faced by Chrysalis High was to rank highly competitive keywords in the education sector. The school also wanted to differentiate itself from other international schools in Bangalore and attract prospective students and parents.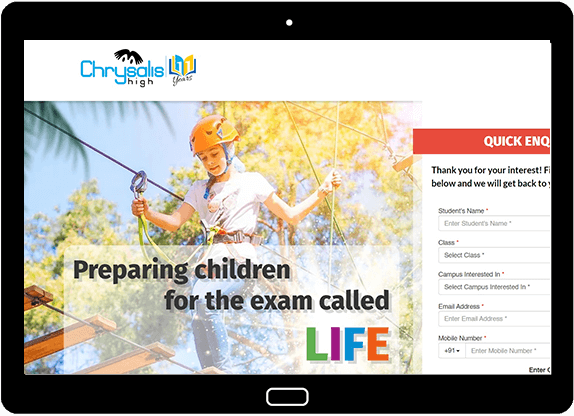 Solution:
Ralecon, a leading SEO agency, developed a customized SEO strategy to address Chrysalis High's goals. The strategy included the following key elements:
Keyword Research:
Ralecon conducted extensive keyword research to identify high-search volume keywords related to international schools in Bangalore. The agency identified over 100+ relevant keywords and prioritized the top 40 with the highest search volumes and relevance.
On-Page Optimization:
Ralecon optimized Chrysalis High's website by improving the site's technical structure, meta tags, and content. The agency optimized individual pages with relevant keywords, enhanced the website's user experience, and ensured proper internal linking and site navigation.
Content Creation:
Ralecon created informative and engaging content for Chrysalis High's website, including blog posts, articles, and FAQs. The agency focused on topics relevant to prospective students and parents, such as the school's curriculum, facilities, and extracurricular activities. The content was optimized to target the identified keywords and attract organic traffic.
Local SEO:
Ralecon implemented local SEO strategies to enhance Chrysalis High's visibility in the local market. The agency optimized the school's Google My Business listing, submitted the school's information to local directories, and obtained positive online reviews from parents and students.
Results
Ralecon's SEO efforts delivered significant results for Chrysalis High within a year:

40+ high search volume keywords ranked on the 1st page of Google, improving the school's visibility and attracting more organic traffic.

12% increase in yearly organic traffic, indicating improved visibility and higher website visits from the target audience.

16% increase in yearly organic leads, demonstrating the effectiveness of the SEO strategy in attracting prospective students and parents and generating inquiries.
Conclusion
Ralecon's tailored SEO strategy helped Chrysalis High, a top international school in Bangalore, achieve improved online visibility, increased organic traffic, and more leads. By focusing on targeted keyword research, on-page optimization, content creation, and local SEO, Ralecon successfully positioned Chrysalis High as a leading choice for prospective students and parents in the competitive education sector.
Get in Touch