Web Analytics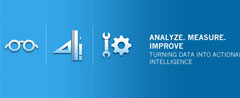 While it is important to have many different channels of online marketing, it is all worthless unless you are able to properly see its effectiveness. Likewise, having all of the information regarding your website traffic is not useful unless you are able to use that information to expand your business and get better results.
Ralecon takes the information about your website from Google Analytics and other sources, and distills that information down to the factors that are important for your business. Some of those factors include: which keywords are the most searched for, the main source of your web traffic, your online demographic, which of your pages are visited the most, and how many of your website visitors convert into sales.
Why use Ralecon for Web Analysis?
We have extensive training and experience, and know how to identify and interpret the relevant information about your web traffic, and give you the tools you need in order to constantly improve your website and marketing campaigns. We are able to see the quality of the traffic to your website, not just the total amount of visitors. This can also help to identify where problems might occur in the buying process, and give you valuable insights into how to remedy these issues.
This information is also an important ROI metric, as we are able to sift through all the data and find which of your marketing efforts are producing sales, and which are simply wasting money. That way, Ralecon gives you the tools that enable you to maximize the efficiency of your campaigns, and save money while continuing to grow your business.